I may not be a dare devil or even consider myself an avid risk taker, but there is one thing I like to go a little Evel Knievel with and that's food. Typically when out gathering ingredients I plop one thing in my cart or farmer's market bag that I look at and go "What the heck is this?"
And that's where these come in…..dried fava beans! (The bean on the left is before they are soaked, the one on the right is after they are soaked and peeled.)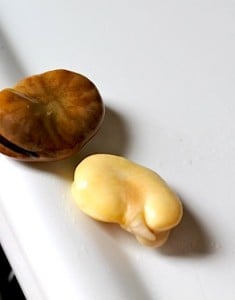 Fava beans are a broad bean, used all around the globe in different types of cultures. They are a staple in many middle eastern countries, most commonly in Ethiopia, Iran, and Morocco. If you were to get a falafel in Ethiopia, the main ingredient used would be fava beans instead of the traditional chickpeas used in the Greek version. Here in the United States we often use fresh instead of dried during the springtime when they are in the peak of their growing season in things like risotto, salad, or soups. The dried version caught my eye in the bulk section of Mississippi Market so I decided to do some experimenting.
I'm not gonna lie…..fava beans take a little elbow grease. See these ugly looking things that resemble beetle bodies? They are the skins that have to be peeled off after they soak so that you can cook them. About 10 minutes into peeling you might be saying "Why the h*&# am I doing this?" but once you taste this dip you'll be happy you did.
This garlicky, creamy delight is made with just a few simple ingredients and zesty spices blended together in a food processor. It is the Moroccan version of hummus, most commonly referred to as Bessara. Alternatively, you could add some chicken broth to this and puree it into a mashed potato like side dish along a juicy steak. Don't be nervous to try this recipe – it's fun breaking out of the box!
Garlic Fava Bean Dip
1 1/2 cups dried fava beans
4 cloves of garlic
1 t. sea salt
juice of one lemon
1 t. cumin
3/4 t. smoked paprika
1/4 t. black pepper
1/4 c. olive oil
Reserved liquid from cooking beans
For garnish – Olive oil, cilantro, and paprika
Soak beans overnight or for at least 8 hours in bowl with water covering them by about 3 inches. Rinse and drain beans, then peel skin off. Most of them should split a little from soaking where you can start the peel. If not, you may have to use your nails to get them started. Once they are peeled add them to a large pot, again watering covering by about 3-4 inches and cook until soft (about 50 minutes). Best way to test if they are done is to bit into one as you would do with pasta. Drain, reserving about one cup of the liquid.
To a food processor ,add the garlic and salt. Pulse until garlic is chopped, then add in the beans, lemon juice, and spices. Process these ingredients and slowly add olive oil through hole in top of machine. Add reserved liquid as you see fit to create a creamy smooth consistency. I like to let the food processor run for at least two minutes to make sure I get the desired texture. Add additional salt and spice to taste, then garnish with olive oil, cilantro, and paprika.