Well, my first girls "glamping" weekend is in the books. Fun doesn't even do justice to how great of a time we had at Camp Wandawega, an old speakeasy & brothel deep in the Wisconsin woods turned camp resort in the 1950's. I'll be sharing the whole experience in a separate post, but think "elevated, modern-vintage camping" within the wilderness, a tiny bunk house, kitchenette, and electricity.
Some may say I packed unnecessary things, like my all-clad waffle maker, pour over coffee supplies, and this luxurious hand repair cream, but in my mind, we were glamping! And I was going to make sure we felt a little pampered.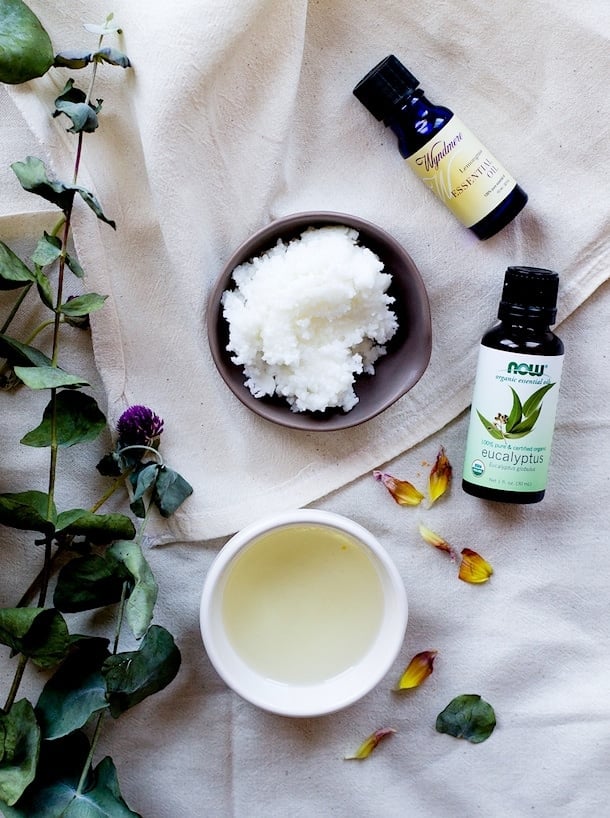 I'm excited to start sharing natural skincare & green living ideas, and I think what you'll find is that they're even easier to make than you imagined (and make great gifts!). But most importantly they're made with just a few real ingredients instead of the synthetic "extras" of store-bought versions.
I must say that up until this year, I didn't pay much attention to the labels of the products things I was putting on my body, or in cleaning supplies. But going through some auto-immune issues this spring and a lot of digging to figure out what might have been causing my symptoms, I completely cleaned out my makeup bag and our household cabinet. I was shocked at how toxic most of the products were, and I began to understand that what we put ON our bodies is just as important as the food we are putting INTO it. Essentially anything topical goes straight into our bodies, with no filter.
For both the body and our skin, simple is better. Being it's own ecosystem, we have to give it love and care, respect for all the amazing things it does for us. And I think natural DIY recipes are such a great way to do that, they're beauty in the making.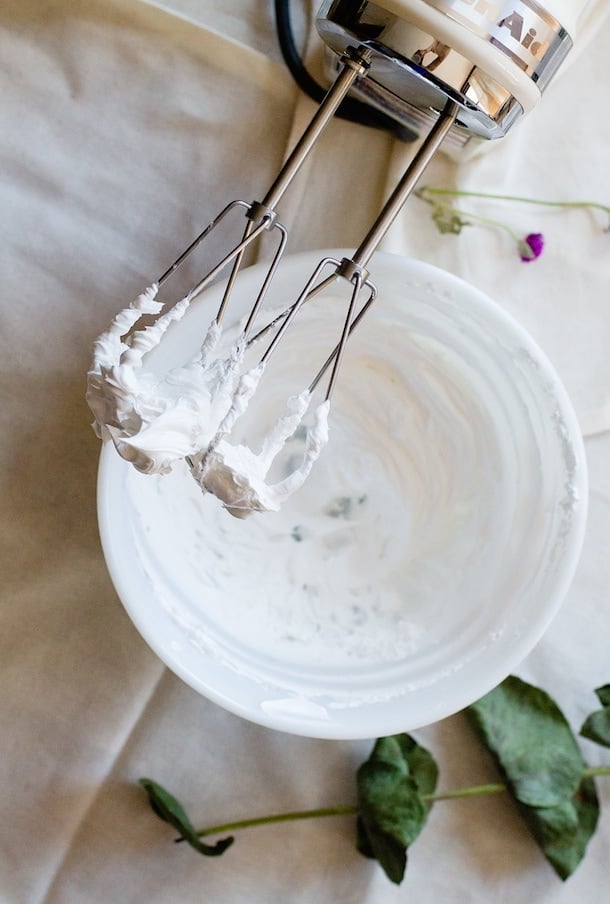 Spending most of my time in the kitchen each day, my hands take quite a beating, whether that's from the cooking or washing dishes. And living in Minnesota, they get really dry during the winter months. I've been looking for something to soothe, hydrate, and protect them from the elements.
This simple Hand Repair Cream does just that, with just four ingredients, two of them being eucalyptus & lemongrass oils that give it an invigorating, but not overpowering scent. The whipped base is made of:
shea butter

: is skin's best friend. It is a superb moisturizer, a pure source of Vitamin A & E that heals and nourishes at the same time. You'll feel it soften your skin immediately, and what I like most about is that it's not greasy, which can sometimes happen with coconut oil based moisturizers.

sunflower oil

: calms irritated skin and is extremely hydrating, which is why you'll only need a small amount.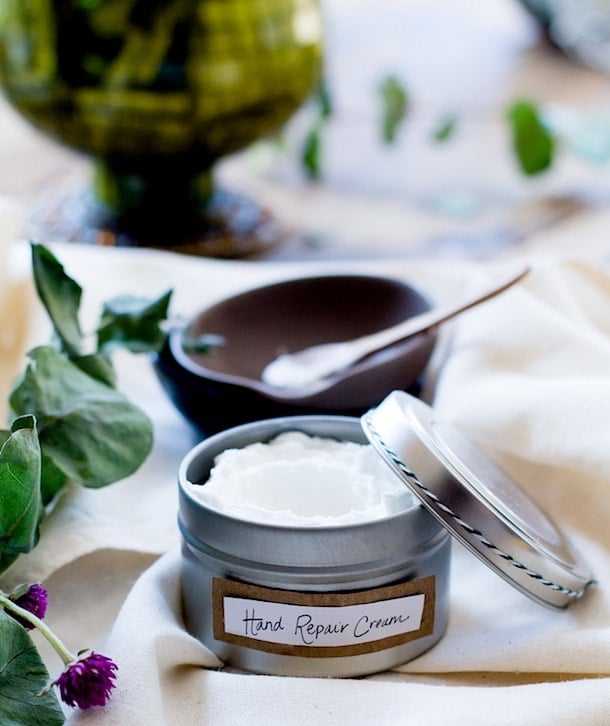 Even the essential oils have healing properties, not to mention they're smell is quite refreshing, a natural stress reliever.
eucalyptus: has antiseptic qualities because of its germicidal quality, therefore this oil is used for healing wounds, ulcers, burns, cuts, abrasions and sores.
lemongrass: is a valuable aromatherapeutic oil. Its clean and calming aroma helps relieve stress, anxiety, irritability, and insomnia
The process is quick, just a little melting, and a quick whip with a hand mixer. Your hands will thank you, and so will your mind, as you take a few minutes to be creative. And it would make a great gift for anyone, but especially those who love to cook, garden, or work outdoors. Have a great rest of the week everyone! xo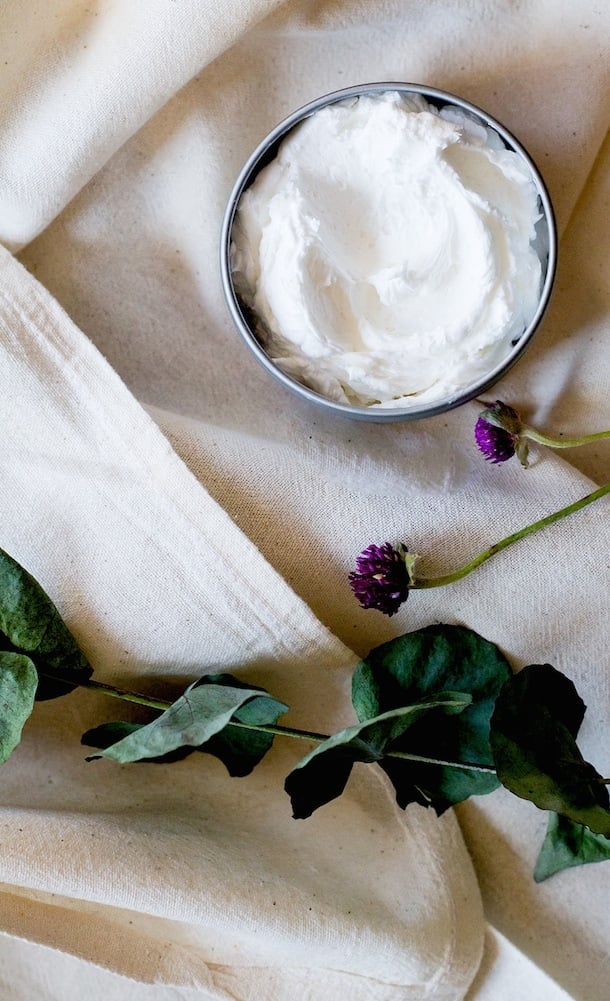 This post is sponsored by NOW Foods, who is a great source for organic products when making all of your natural skin care products. All opinions are my own, and I'm so grateful to work with great brands, as well as all of you who support me!
DIY Hand Repair Cream with Eucalyptus & Lemongrass
3 ounces NOW Foods shea butter
1 tablespoon Ellyndale organic sunflower oil
10 drops of lemongrass essential oil
4 drops NOW Foods organic eucalyptus essential oil
Add the shea butter and oil to a small pot and warm over low heat on the stove, until everything is just melted. Pour into a non-reactive bowl, large enough for you to eventually use your hand mixer in. Stir in the drops of essential oil. Set bowl in refrigerator for 25 minutes, so mixture becomes slightly solid.
Then whip with hand mixer for 30-40 seconds on medium speed, until cream is fluffy, creamy and has doubled in size. (It can turn from fluffy to stiff quite quickly, so if this happens, simply melt for 10 seconds in the microwave, then lightly whip for 10 seconds.) Transfer to a clean jar and apply as needed to soften your hands, or rough spots like feet, knees and elbows that tend to get dry.