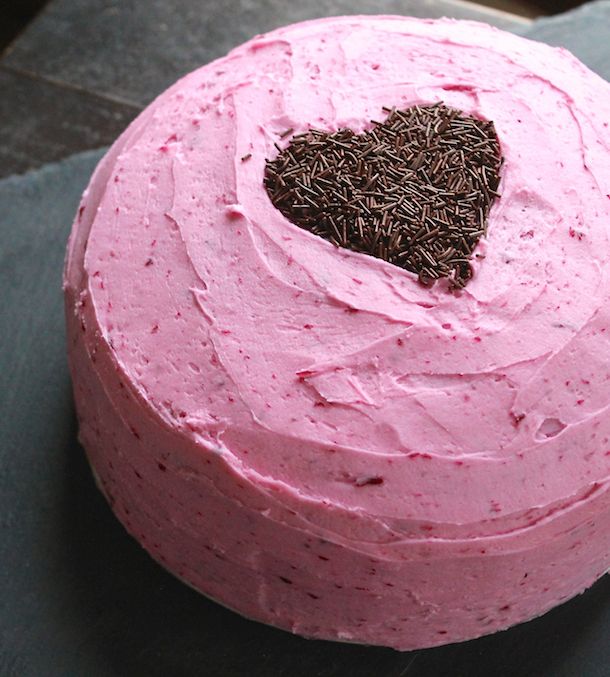 Looking to celebrate Valentine's Day with a beautiful gluten-free dessert?
This Gluten-Free Chocolate Beet Cake with naturally dyed pink buttercream frosting is absolutely everything you'd want in a chocolate cake, with a little something extra.
A chocolate beet cake:
My inspiration to make this cake was not because I wanted to secretly incorporate beets to make it healthier. My my main goal was to celebrate beets for what they add to cake – color, texture and moisture!
Does this cake taste like beets? Well, they make themselves known but only barely, with the loveliest slightly earthy flavor that sets this cake apart. They make the cake extremely moist!
It's one of the most perfect vehicles for rich vanilla buttercream (which also goes well atop these paleo chocolate cupcakes), which I naturally dyed pink with the beets, too! How's that for a dye free frosting?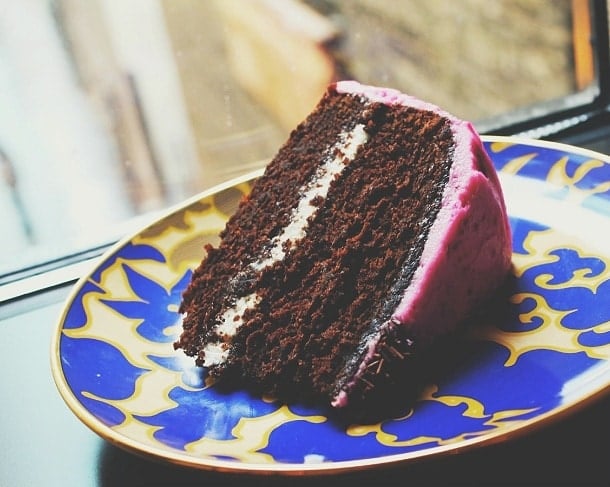 To Brian, my love and best friend:
We don't really celebrated Valentine's Day, as you've said many times, "It isn't about just one day and a bouquet of flowers. It should be shown all the time, with unexpected acts of kindness that mean so much more."
The first time you mentioned that, I knew I was with the right person. It's the little, yet big things you do for me that signify the deeper love we have.
Like spending 3 hours putting the new dishwasher in (hooray!) when we could have paid someone to do it.
Like finding me the perfect birthday gift that I didn't even hint about.
Like letting me make a complete mess of the kitchen every single day and being okay with it.
Like sending an "I really miss you" text when you're on vacation with the guys.
You're always there to ground me,
to calm my nerves,
to wipe my tears, both happy and sad.
You make me feel valued,
loved,
intelligent,
and beautiful…..
Things that I admittedly have trouble doing on my own sometimes.
Neither of us may be romantics, but I do know this: Our relationship brings me happiness and contentment that I never quite imagined, and for that I will be forever grateful.
xo
Amanda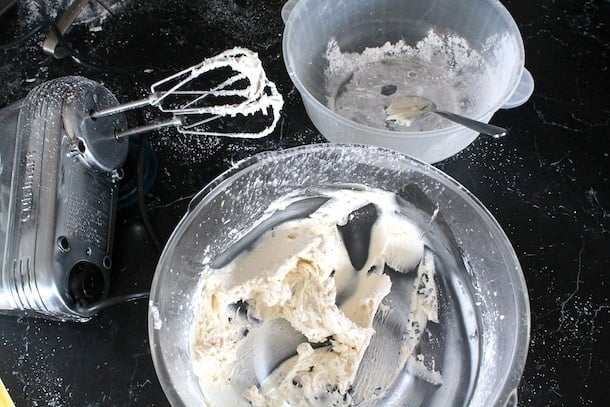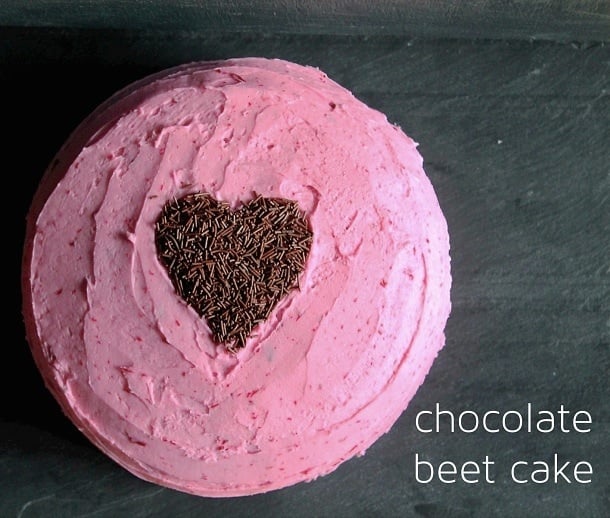 More Gluten-Free Cake Recipes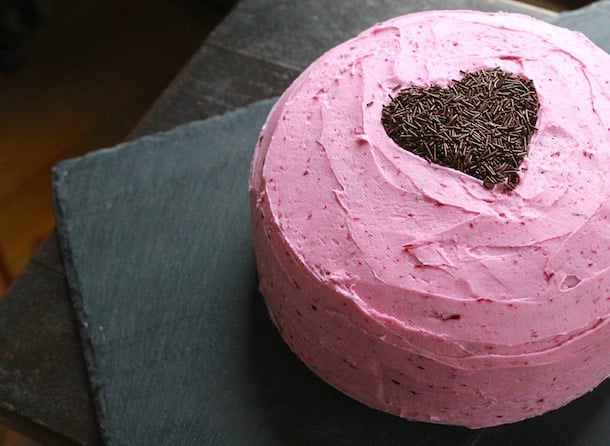 3

small to medium beets

1/2

cup

sugar

1/2

cup

packed dark brown sugar

7

tablespoons

butter

softened

1/2

cup

natural unsweetened cocoa powder

2

large eggs

1/2

cup

+ 1 tablespoon buttermilk

1

teaspoon

vanilla

1/2

teaspoon

baking soda

1/4

teaspoon

baking powder

1/4

teaspoon

kosher salt

1/2

teaspoon

espresso powder

optional
Preheat oven to 375 degrees F. Thoroughly wash beets under running water, and trim their leaves, leaving about 1/2 inch of stem. Place clean beets in a piece of foil. Drizzle with just a bit of vegetable oil. Seal up foil. Place on a baking sheet in the oven. Roast until beets are tender when pierced with a knife, about 1 hour.

Remove the beets from the oven. Open the foil and allow beets to cool completely, then peel. Using a box grater, grate the peeled beets on the finest grating plane. Measure 1/2 cup of grated beets for the cake and 2 tablespoons for the frosting. Set aside.

Reduce the oven temperature to 350 degrees. Use butter to grease bottom and sides of a 6 in round springform pan. Trace a piece of parchment paper so it is the same size as the bottom of the cake pan. Cut it out and place inside the cake pan. Butter the parchment paper.

Using a stand or hand mixer, cream together butter and sugars, beating on medium speed until pale and fluffy, about 3 to 5 minutes. Beat in eggs, one at a time, for one minute after each addition. Stop the mixer and scrape down the sides of the bowl as necessary. Once eggs are incorporated, beat in beets and vanilla extract until thoroughly combined.

In a medium bowl, whisk together flour, cocoa powder, espresso powder, baking soda, baking powder, and salt. Add half of the dry ingredients to the butter and egg mixture. Beating on low speed, slowly add buttermilk.

Once just incorporated, add the other half of the dry ingredients. Beat on medium speed until milk and dry ingredients are just incorporated. Cake batter will be thick, not pourable like other cakes you may have made.

Bake for 45 minutes, or until toothpick comes out clean and sides are slightly starting to pull away from pan. Let cool for 5 minutes, then unmold from pan and set on wire cooling rack. Let completely cool.

I used this

vanilla buttercream frosting recipe

, reserved 1 cup of it and set aside. I then beat in the two tablespoons of reserved grated beet into the remaining frosting and set aside. I cut the cake in half, spread the white frosting on top of one half, placed other half on top and proceeded to frost the rest of the cake with the pink stained frosting. And then I made a heart with chocolate sprinkles. :)