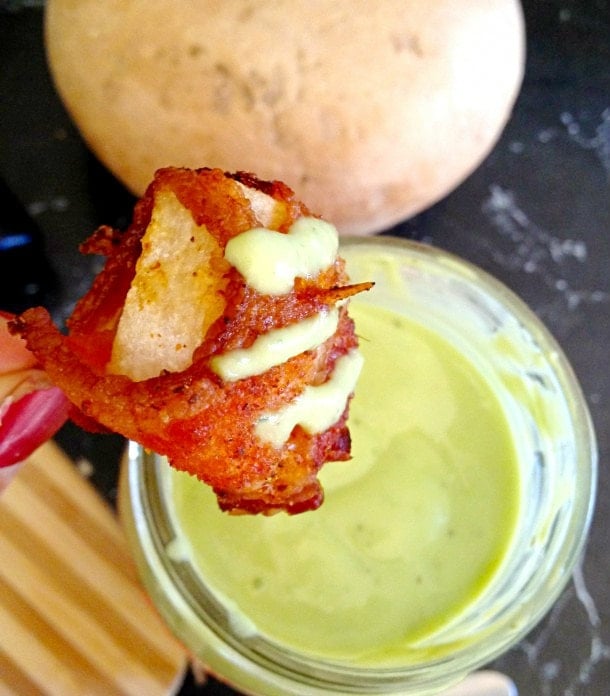 Jicama – say it with me: Hick – i – ma! It's fun isn't it? And it's got lots of possibilities in the kitchen. Never had it before? Well, you are in for a real surprise. You look at it and think – geez, it's got thick skin, it's hard and dense, and when you peel away the skin all you're left with is plain white flesh that's the color of sun deprived Minnesota legs in the dead of winter. Don't let that fool you though! This vegetable is a little bit sweet, crunchy like celery, and quite refreshing. Nutrition wise, it's high in Vitamin C and low in calories.

Feeling creative, I really wanted use the jicama in something other than a salad. How about roasting it with some cajun spices? Or better yet, how about roasting it wrapped in salty, savory, finger lickin' good bacon? Bingo!

This jicama recipe is very simple and would be a fun appetizer sure to introduce guests to an unsung hero of a root vegetable. The jicama becomes tender in the oven and the bacon blanket it's wrapped in injects amazing flavor. Then take it to the next level and dress it with creamy, cool avocado sauce. Is your mouth watering yet?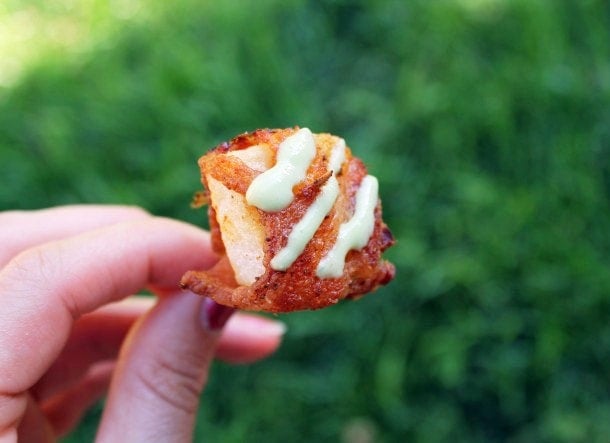 Bacon Wrapped Jicama Recipe with Cajun Spices
When buying jicama just make sure that it is firm and has few spots with a smooth tan color. You can leave it sit in your fruit bowl for a few weeks if it is unpeeled. If you do peel it, rub it with a little lemon juice and tightly wrap in saran, then store in refrigerator.
– 1 small to medium jicama, peeled (I use a knife – the skin is too tough for a vegetable peeler)
-Several pieces of bacon, cut into 2 1/2 in pieces
-Cajun Seasoning (I love Penzey's)
–Avocado Sauce
Preheat oven to 375 degrees. Line baking sheet with foil. Cut jicama into cubes about 1 1/2 to 2 in. long by 1 in. high. Lightly dust with cajun seasoning, then tightly wrap with piece of bacon and sprinkle with additional seasoning.
You can use a toothpick to hold together, or just place on baking sheet with the cut ends down on pan surface so it stays wrapped. I liked the toothpick method better. Bake for about 25 to 30 minutes, or until bacon is nice and crispy. Remove from baking sheet and place on paper towels to drain. Serve with avocado sauce drizzled on top or on side for dipping.