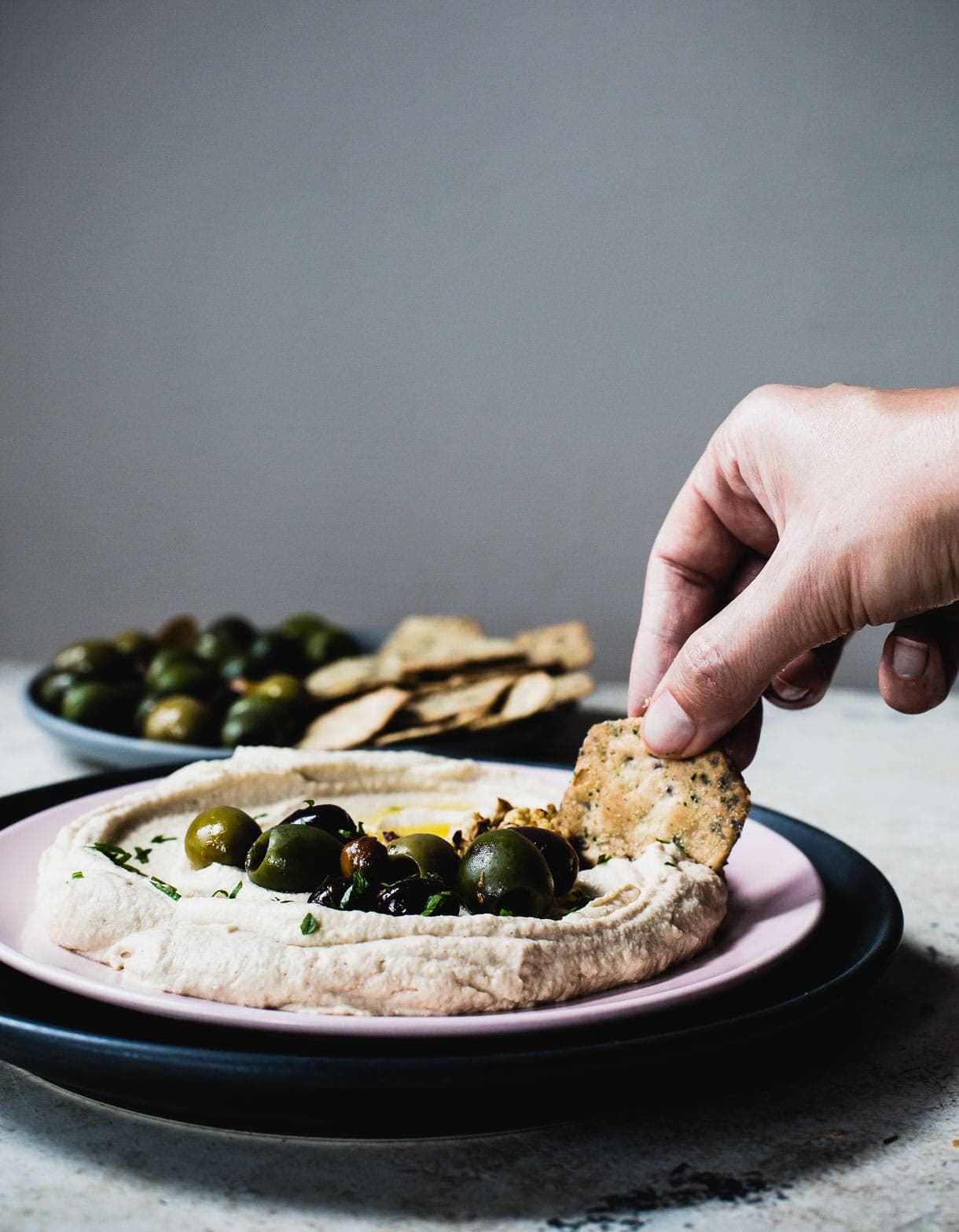 This post is sponsored by Aldi. 
Billowy and smooth, this roasted cauliflower dip tastes a whole lot like the best hummus you've ever had, yet doesn't have a single bean in it. It's flavorful and creamy, easy to make, and includes some all-star ingredients like cauliflower, tahini, lemon, and garlic. Topped with olives, parsley, and rich olive oil, it looks and tastes fancy….. Easy fancy, just the way I like it. I particularly like the olives for their saltiness and added texture.
I ate it first with a spoon, warm out of the blender (as one does), and then grabbed a box of  Gluten-Free Rosemary & Olive Oil Multiseed Crackers from ALDI (a winner of the 7th Annual Gluten-Free Buyers Guide Awards), which were the perfect dipping vehicle. They remind me of Crunchmaster, but the texture was better and they're less expensive too! Win.
My main recommendation is to make a double batch and use throughout the week to create other meals. It's so versatile! A sandwich spread, cheese plate addition, on a veggie platter, or even as a creamy bed under roast chicken. I don't think you could go wrong.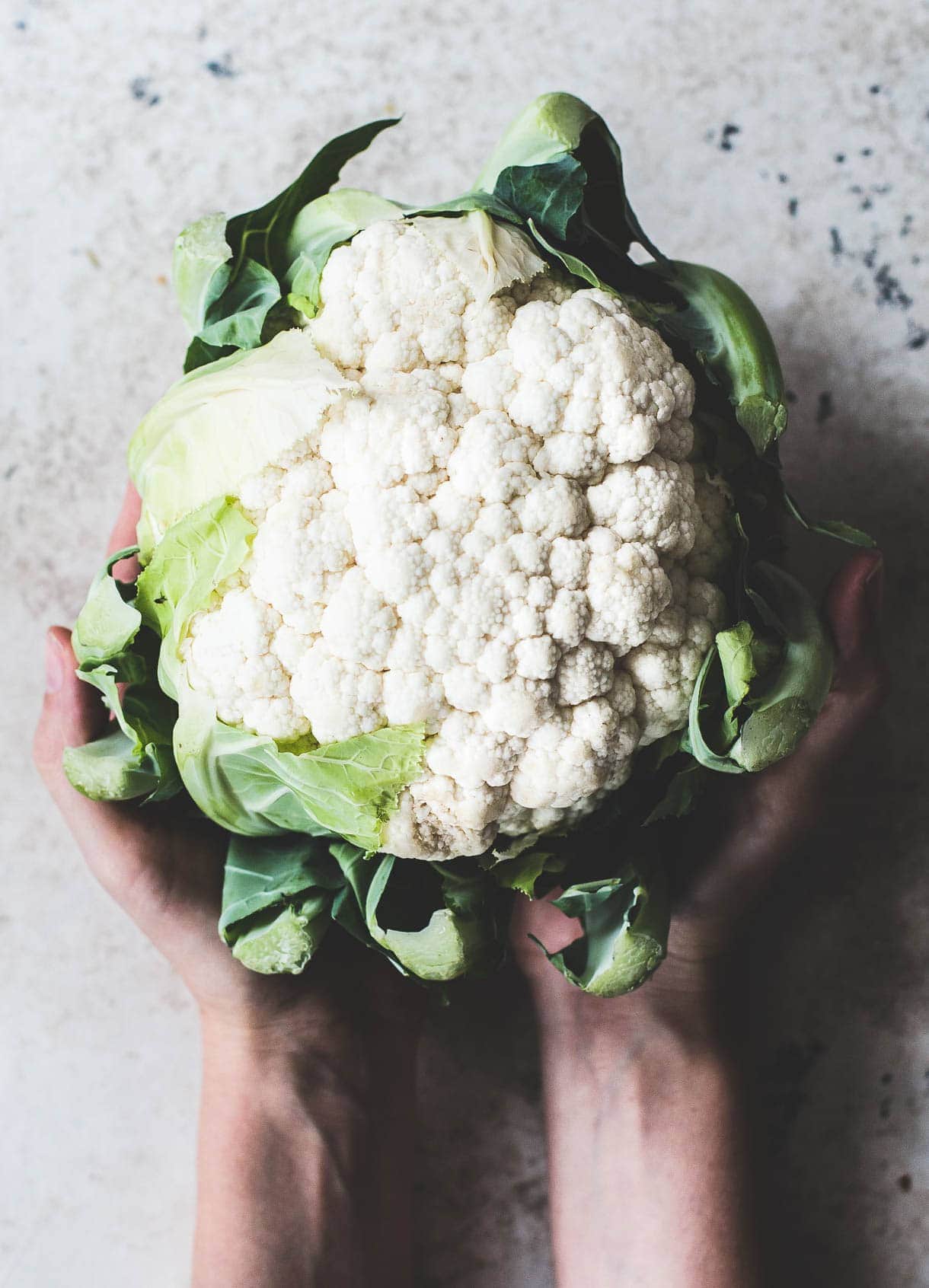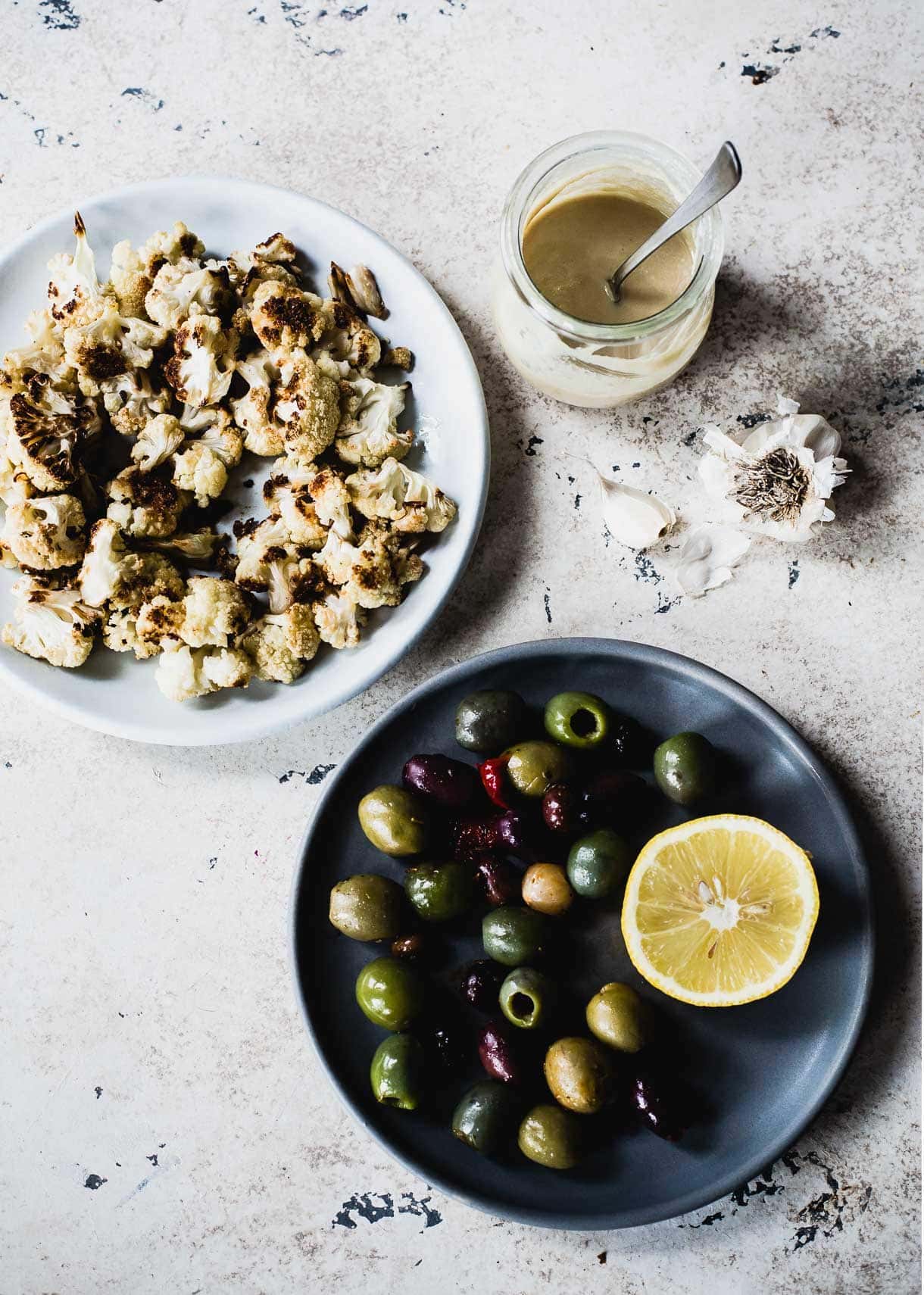 About my ALDI experience:
Grocery shopping. For some, those two words are like nails on the chalkboard. The decision making, meal planning, budgeting, long lines, etc. I'm at the store typically every day, because of the work I do. Sometimes more. That being said, I have a pretty good routine down, and have my stores I like better than others, or are the only ones who have certain ingredients.
It had been five years since I'd walked into an ALDI store. As someone whose cooking was rooted in fruits and vegetables, grass-fed or organic dairy and meat products, and a few gluten-free staples like bread and grains, I didn't see much reason to shop there.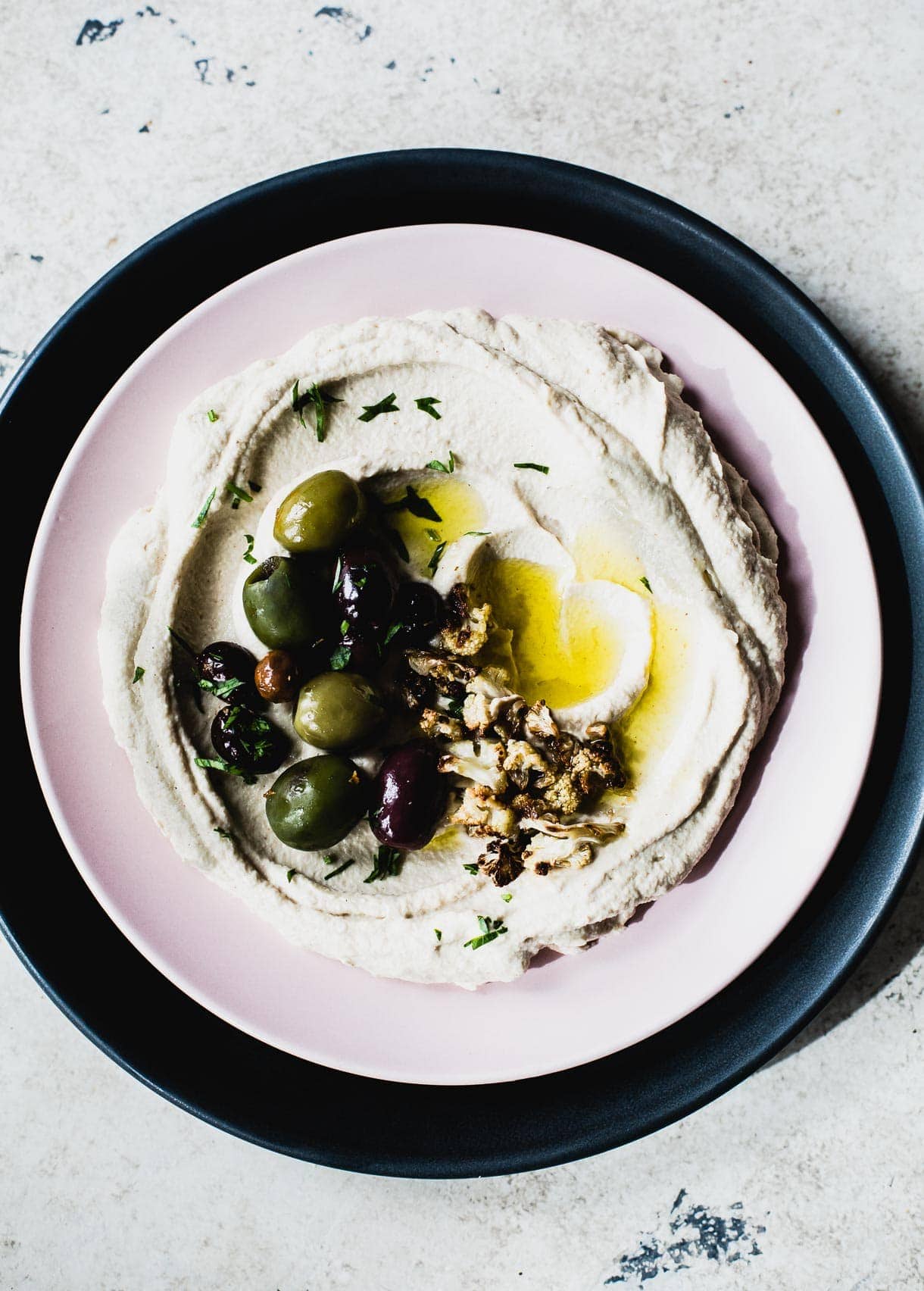 I'd read a few articles in the past year about changes ALDI had been making to their stores, including affordable organic produce, a larger selection of fresh food in every aspect from dairy to meat, and adding a gluten-free product line. They're also remodeling about 1300 stores around the U.S. My interest was piqued, but I still hadn't checked it out.
Until about two weeks ago, as part of a partnership with ALDI. I went to one of my local stores to see the updates, and share those thoughts with all of you. And I genuinely was taken aback at what they've done, and how far they've come in providing people with affordable, healthy food, with more of a focus on freshness. And they've removed added MSG, certified synthetic colors and partially hydrogenated oils from ALDI exclusive food brands.
I'm a big believer in accessibility in terms of encouraging people to include more fruits and vegetables in their diet, and that is one of the biggest ALDI benefits. They have really taken the initiative to bring healthy food to everyone, providing fresh and organic food at a low price, resulting in more people being able to insert color, variety, and nutrition into their meals.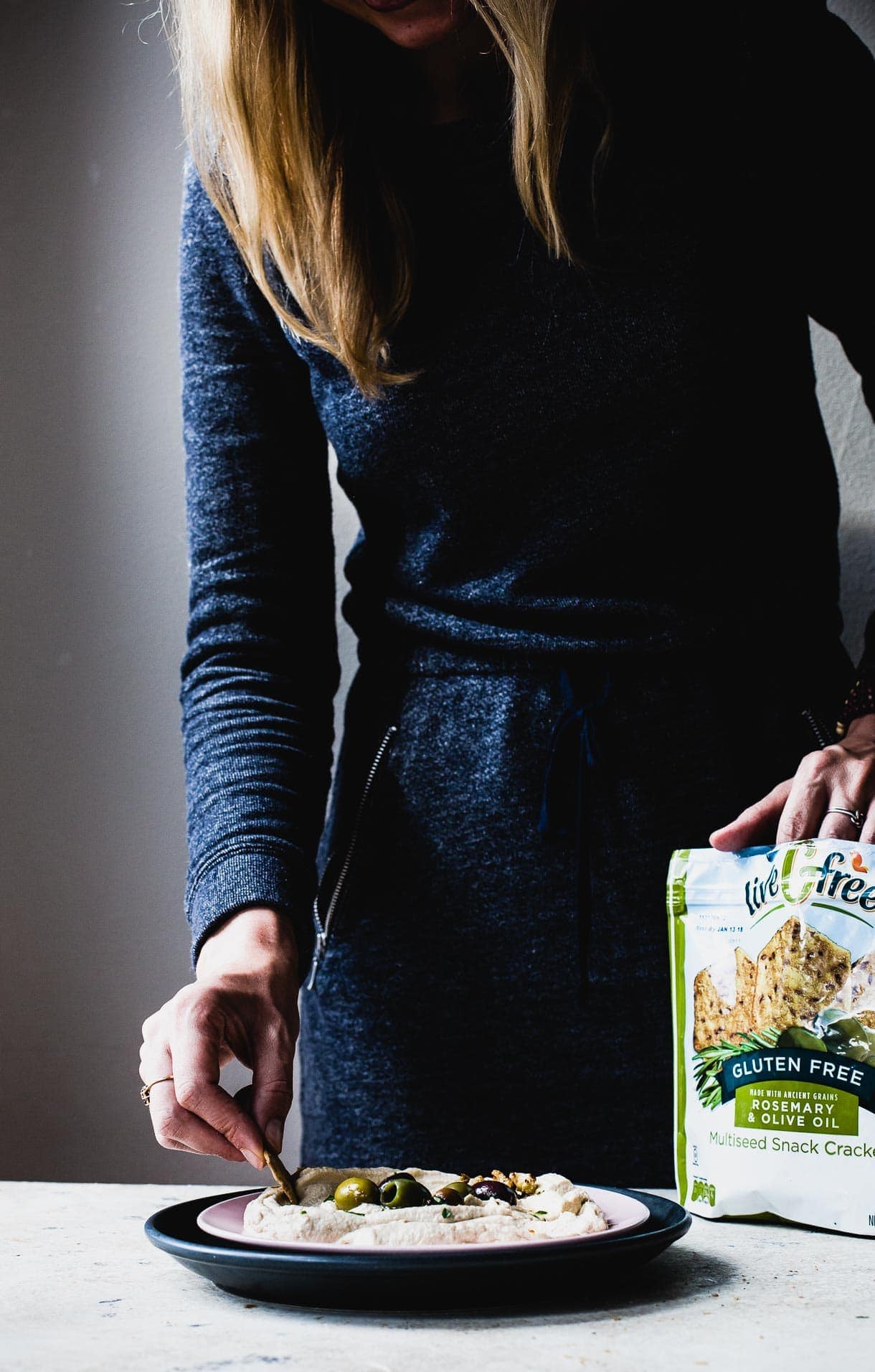 So what did I buy? A few of my favorite things – 2 pounds of organic bananas for $1.50 and a pack of organic avocados for $2.99. I found 100% grass-fed beef for $5.99 a pound, which is an amazing price. Cashew butter for $5.99, and organic honey. A huge bag of pistachios for $4.99, and sweet potato chips with only 3 ingredients for $1.99. I found tortilla chips and queso fresco. La Croix water, a 15-pack for $3.99. YES. They've also increased their SimplyNature line, which is free from 125 artificial ingredients, and the liveGfree brand (gluten-free), like the crackers. (Please note, prices may vary by store and location.)
And the remodeled store? It was airy, bright, and had a much more inviting feel to the aisles and design. They used a lot of recycled building materials, with LED lighting, and energy-efficient refrigeration.
I'd definitely recommend stopping by an ALDI store near you. I think you'll find it worth it, and much improved, just like I did.
Xo, Amanda

Super Smooth Roasted Cauliflower Dip
A hummus like roasted cauliflower dip, bean-free!
Ingredients
1 (2 pound) head of cauliflower, core removed and cut into florets (about 6 cups)
5 tablespoons olive oil, divided
1 1/2 teaspoons kosher salt
1 clove garlic
Juice of one lemon
1/4 cup tahini
1/2 cup warm water
1/3 cup mixed olives
Minced fresh parsley
Gluten-Free Crackers
Instructions
Preheat oven to 375 degrees F. Toss cauliflower with 2 tablespoons olive oil and 3/4 teaspoon salt. Roast for 35 minutes, stirring once.
Meanwhile, mince the garlic and set into a bowl, then pour lemon juice on top. Let sit while cauliflower roasts. This helps make the garlic "linger" in your mouth less.
When cauliflower is done roasting, add to a food processor or high speed blender. Add 2 tablespoons olive oil, remaining salt, garlic and lemon juice, tahini, and water. Blend until completely smooth, adding a little more water if needed.
Spoon onto a plate and make a small well in the middle, drizzle with remaining 1 tablespoon olive oil. Garnish with olives and fresh parsley. Serve with crackers.