Last weekend we ate these waffles on the dock of a lakeside cabin we rented, and I joked that I wanted to start a dockside waffle shop. Like a food truck, fly by style. And these would always be on the menu, with the best seasonal fruit and Minnesota maple syrup. Yes, that means I hauled my waffle maker along, as I always do when we take a road trip. Even though it's not the lightest or compact object, it never gets left behind. In fact, I've remembered it over a toothbrush and socks the last three times we've traveled. Priorities.
When most days I feel rushed with breakfast, the idea of making and eating these to the tune of slow is a welcomed change of pace – whether that be on vacation or at home. Their warmly spiced, vanilla laced scent always wakes the beau who's sleeping in, and my own nose perk up. And I'll never tire of the sizzle as the batter hits the hot iron.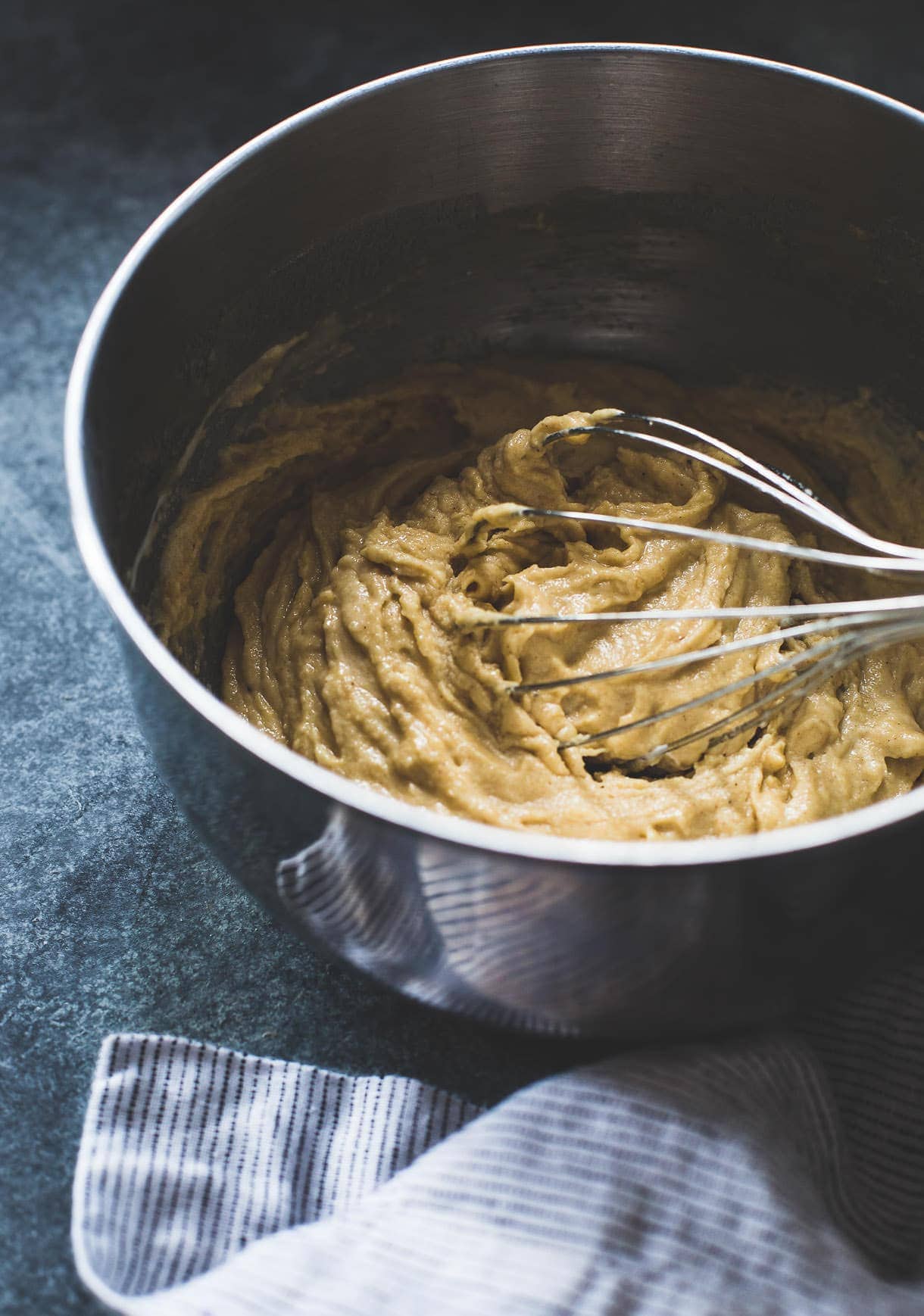 Per the name of this recipe, Maple Hill Creamery's (my partner) grassfed kefir is one of the essential ingredients that makes these the best gluten-free waffles I've ever made – and a nutritional powerhouse at the same time. In this recipe it acts like buttermilk, a proven winner for waffle making because of the acidity, which helps them rise, and moisture to keep their interior soft.
Also known as the cousin of yogurt, kefir is a cultured milk product made with kefir grains, which aren't actual grains, but made of bacteria and yeast instead that are allowed to ferment. It's naturally mild, a little tart and tangy. The difference between the two is that kefir is made by fermenting milk with 10 to 20 different types of bacteria and yeasts, whereas yogurt is usually just fermented with a handful of types. This results in a higher probiotic count in the final product.
So these kefir waffles…… They meet my ideal standards that I've come to require in this best of brunch meal. Thatched pockets that are crisp, yet give way to a tender and light inside. I love everything about them, including the outer ridges, left golden and bare.
They puff and rise as they steam between the hot iron, and end up the perfect thickness. Not too tall and puffy, a problem I see with many waffles that makes them more cake like. And when I want cake, I'll eat cake.
You'll taste the sum of all the parts, from the warmly spiced "bread" to the nutty almond butter and blueberry lavender jam, and the finishing touch of maple that sinks into each square valley. These grids are good. And I hope they make it into your brunch plans soon, xo.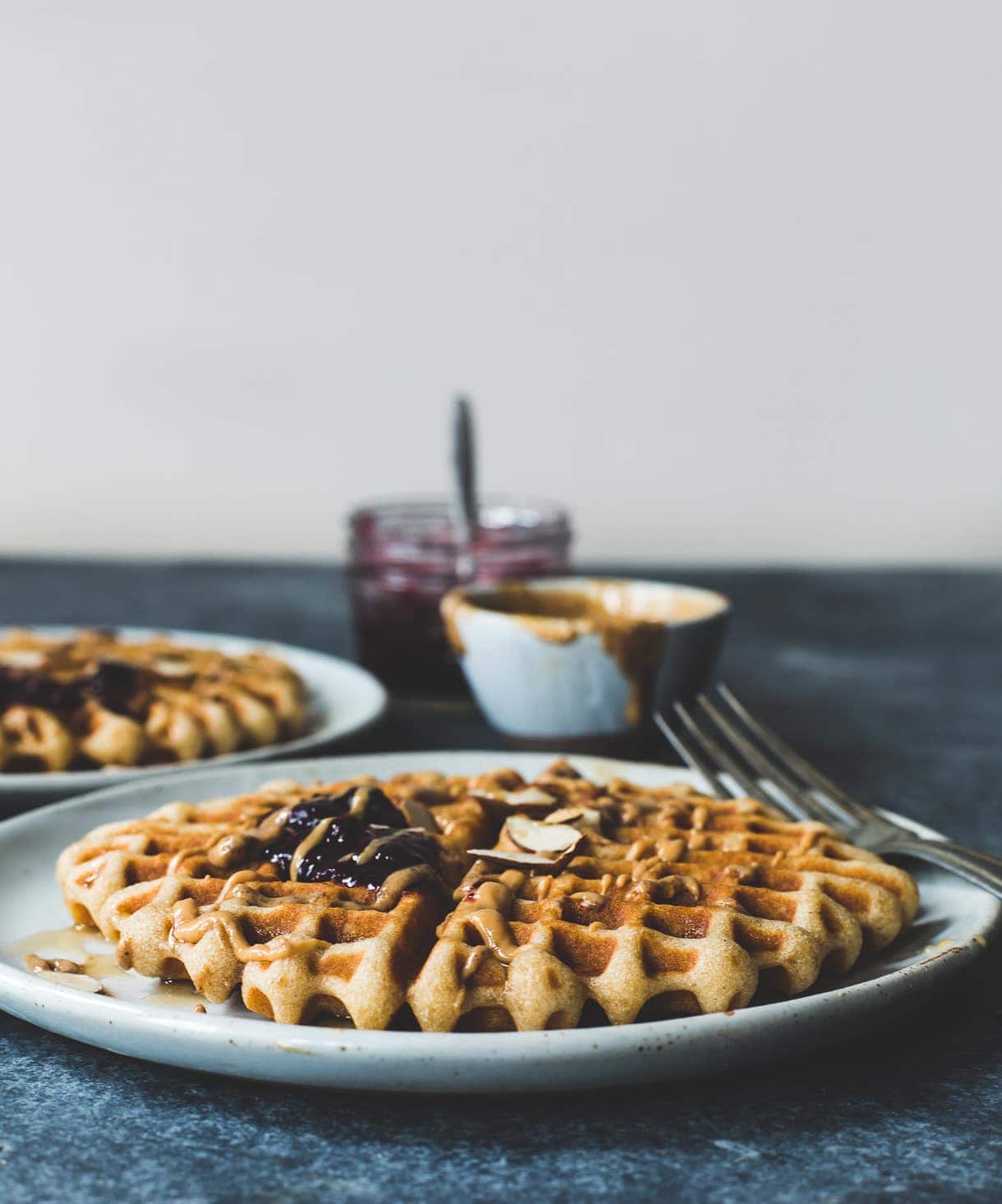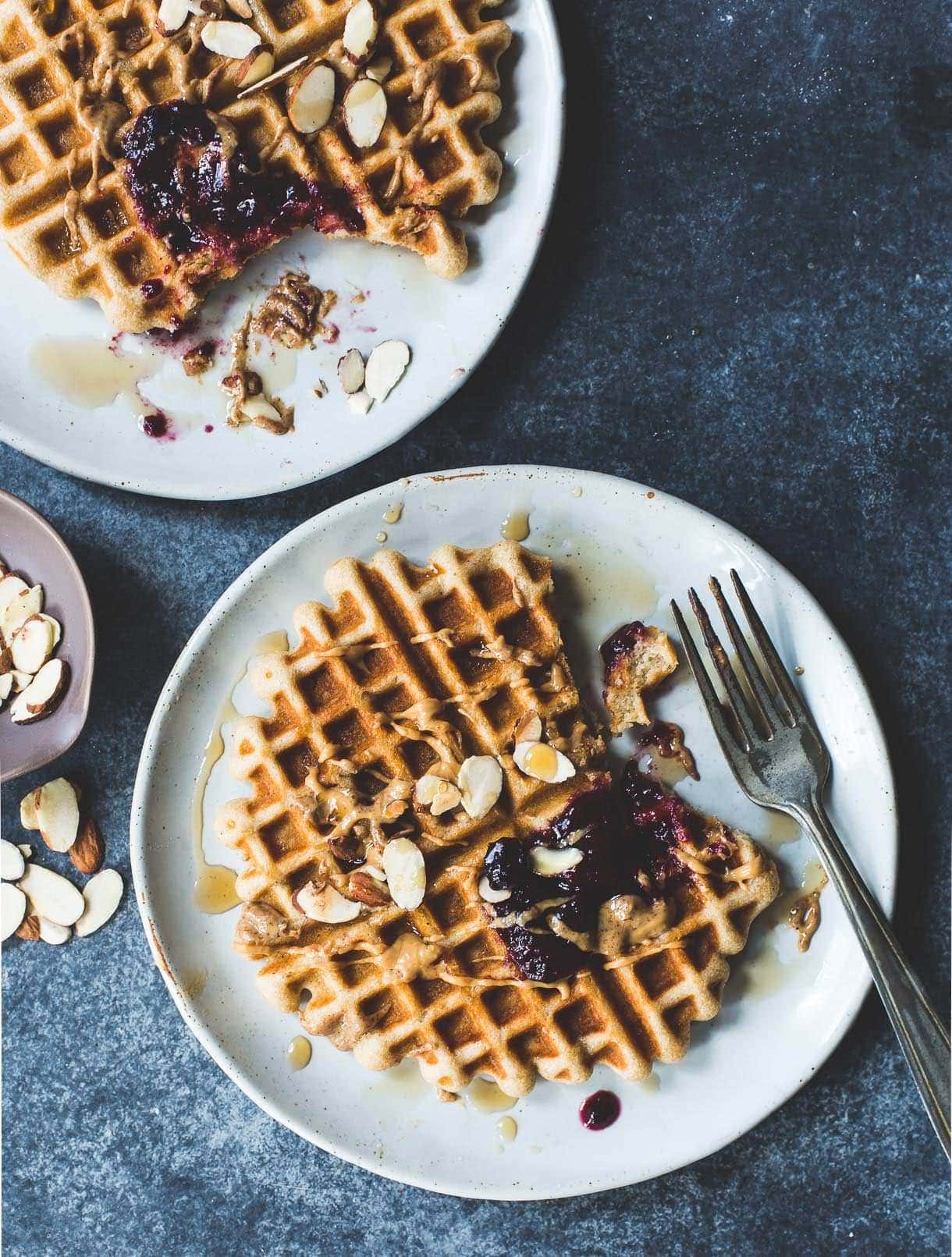 A few notes about the development of the recipe: Although I never leave home without the waffle maker, I had yet to nail down the exact recipe that I felt confident about sharing. All of the experimental batches were good, but not quite "the one". Throughout the trials I was working out a few kinks, mainly the alternative flour combination and the binder to keep them from falling apart. I really wanted to create a gluten-free waffle that was just as good as regular, but didn't use gums to mimic the gluten. And that can be hard to do when using alternative flours. I'd had a lot of success with Cup4Cup, but it bothered me that xanthum gum is on the ingredient list, which is hard for most people to digest.
In the end I found the right combination with brown rice flour, tapioca starch, and psyllium husk, an ingredient I've been playing with more and really liking the results. It's the seed of the Plantigo plant, and in gluten-free baking acts as a binder, producing a tender, stretchy type of effect, similar to that of gluten containing grains. I buy mine from Amazon, but I know some coops carry it too. And a jar of it will last you forever! I have more work to do with it as far as converting some of my older recipes that used gums, but I'm getting the hang of it.
My thoughts on grassfed dairy: It's important to me, very important. Not only how these animals thrive on the pasture instead of in crowded bars, but also the nutrition. Milk from grassfed cows has a omega-6 to omega 3 fatty acids ratio of approximately 2.3:1—the recommended optimal ratio—compared to a ratio of 5.8:1 for milk from conventionally-fed cows. And the natural fats provide satiety that low fat substitutes can't compete with.
Also, the term "grass-fed" on dairy products is NOT monitored or sanctioned by the FDA, which makes it really important to know exactly how the farmer you buy from is producing. USDA organic standards require only 30% of a cow's diet to come from pasturing—the other 70% can be grain, corn, soy, or other non-grass feed supplements. What a cow eats directly affects their digestive health, and the makeup of the milk they produce. When cows eat corn, grain, and (high-carbohydrate) feed, their gut pH becomes acidic, disrupting the gut flora. Organic grass-fed dairy cows are healthier and live about twice as long as conventionally-fed cows.
Thank you, Maple Hill Creamery for sponsoring this post (follow them on Facebook or Instagram), and you for reading! All opinions are my own.
Gluten-Free Kefir Waffles with Almond Butter & Jam
Ingredients
102

grams brown rice flour (3/4 cup)

30

grams tapioca starch (1/4 cup)

1/2

teaspoon psyllium husk

1/4

teaspoon salt

1

teaspoon baking powder

1

teaspoon vanilla extract

1/2

teaspoon pumpkin pie spice

1 1/2

tablespoons maple syrup

1/2

cup Maple Hill Creamery plain kefir

1

large egg, room temperature

4

tablespoons grassfed butter, melted and cooled

Almond butter, jam, and maple syrup to serve
Instructions
Preheat waffle iron to medium high. In a large bowl, whisk together brown rice flour, tapioca starch, psylllium husk, salt, baking powder, and pumpkin pie spice.
In a separate bowl, whisk together maple syrup, kefir, and egg until smooth. Whisk these ingredients into the dry, then whisk in the butter until completely combined and smooth.
Then add one third, or half (if you want really large waffles) of the batter to the waffle iron. As the batter sits it will get really thick. Not pourable. It's totally okay. Just spread it out on in the middle of the iron, like you would cake batter. Seal, and let cook until just golden brown. (do not overcook) I don't rely on the timer on my waffle, instead I open lid to look after a few minutes to see how they are coming along. Repeat two more times to makes additional waffles. Then top with almond butter, jam, and maple syrup.

*This post contains Amazon affiliate links, which I may make a small commission from should you purchase.