Leaves of every color are whipping around in the stiff wind as I type, and this Spiced Apple Shrub Hot Toddy is keeping me warm. My blog + kitchen counter are simultaneously being taken over by squash and apples, a way of say hello October.
Earlier this week I posted a simple recipe for an Apple Shrub, essentially a tart/sweet fermented simple syrup made with vinegar, grated fruit, and sugar. Some think of them as lazy man's kombucha, with similar flavor but a much easier and shorter process.
Shrubs are a great way to preserve the flavor of the season, which is why they became popular in colonial days, when lack of refrigeration required creativity in order to enjoy ripe fruit during the winter.
This apple laced version is the perfect mixer for fall cocktails and mocktails – sweet and tart, juicy yet delicate, and complex. Not surprisingly, I found cinnamon and nutmeg to be it's best match, and for spirits, bourbon. But it's really beautiful without alcohol too, and since shrubs have medicinal properties, I can see it being your new "winter cold cure".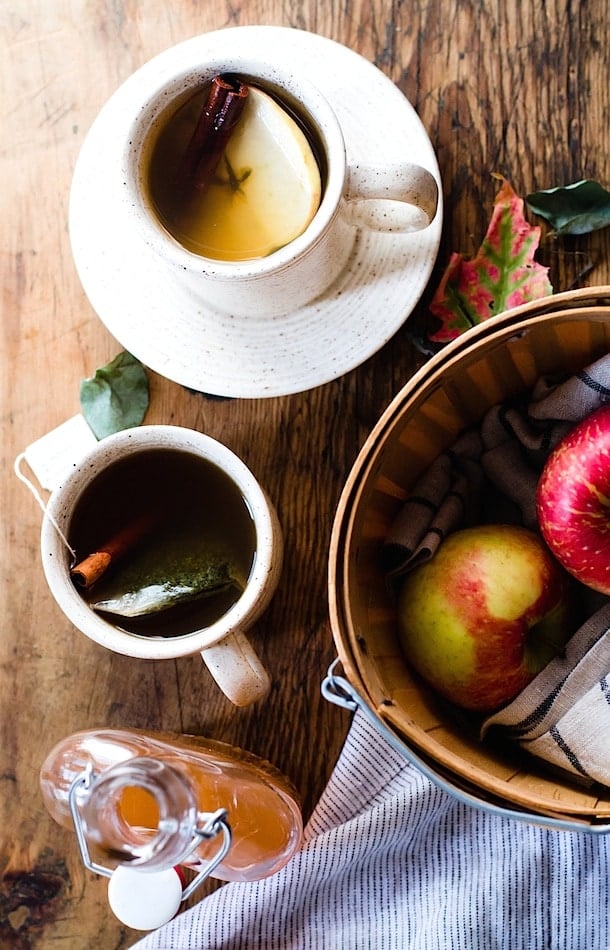 This Spiced Apple Shrub Hot Toddy is a funky rendition of hot apple cider, made with the shrub, fresh apple slices, and cinnamon tea brewed with the ease of my KitchenAid electric kettle, who I'm excited to be partnering with for this recipe.
I'm in love with its vintage design, and that pistachio color has got me wrapped around its finger….. Such a quality piece to add to your kitchen, made with stainless steel. It also shuts off automatically, a nice safety measure to have.
So hop on over to KitchenAid's blog for the the recipe, then cozy up by the fireplace and embrace the weekend. And if you want to add a splash of bourbon to it while you're preparing the Thanksgiving feast, I won't tell. xo!

Thanks to KitchenAid for sponsoring this post and the opportunity to work together. Also, thank you for reading and making Heartbeet Kitchen possible!