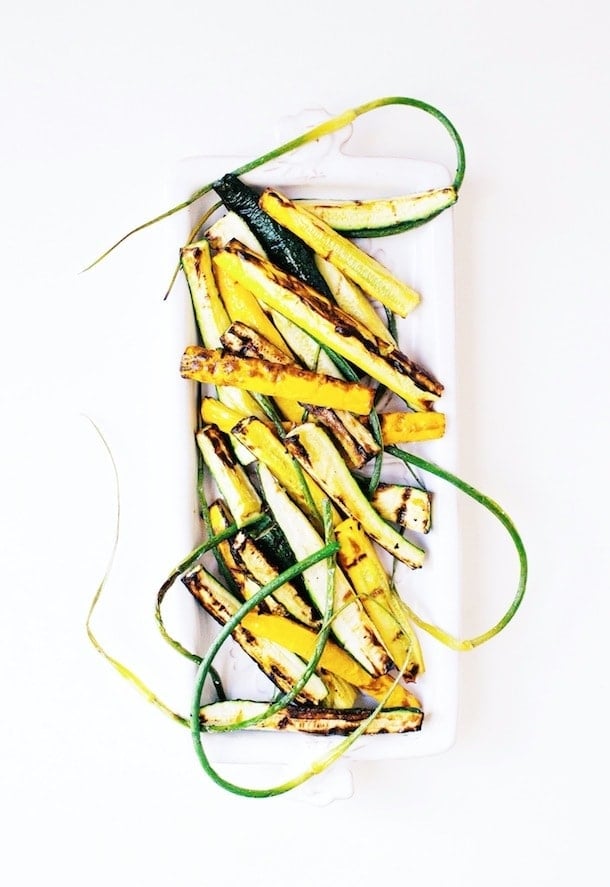 I hope you all had a fabulous 4th of July and are relaxing a little bit before heading back to the grind tomorrow. I wanted to pop in with this quick post because the time to enjoy garlic scapes and young, tender summer squash does not last long!
With Smitten with Squash's release so close, I'd been dreaming of remaking many of the recipes since turning in the manuscript. And finally, finally I spotted the tiny yellow and green gems nestled into baskets at the market last weekend.
Naturally you might think I'd had my fill of squash after eating it every imaginable for way for nearly a year, but that just isn't the case when you're smitten with this Cucurbita family. Even after 80 tried and tested recipes, I still find myself thinking of different ideas. Although not in the book, these Grilled Garlic Scapes & Summer Squash rock my world.
This dish isn't really a recipe, its more about keeping things simple and natural, allowing these two beautiful vegetables to shine at their peak. Twisty, twirly garlic scapes are available for a very short time because they're one of the stages that garlic goes through before it ends up as papery, potent cloves.
The bulb and roots grow underground while a stem, leaves and scapes soak up the sunshine above. They taste like garlicky scallions – mild and perfect for grilling or whirling into a pesto.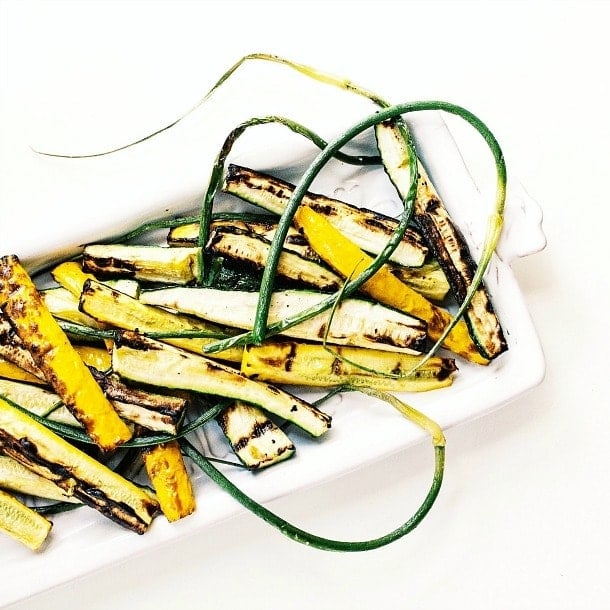 And baby summer squash and zucchini – they're such a treat! The ones I used here were about 5 to 6 inches in length, which makes them perfect for cutting into quarters like dill pickle spears. I even like eating them raw because they're so fresh and crunchy, as close to a cucumber as you'll get.
At this stage they've got fewer seeds and less water content than when they're full grown, which means you can get a nice crispy char from the grill. I find that people tend to overcook vegetables on the grill, so watch them and test so they're just tender and still retain their shape.
Dressed simply with olive oil, sea salt & pepper, this easy July splendor is one you shouldn't wait to try.
Grilled Garlic Scapes & Summer Squash
1 1/2 pounds of zucchini & summer squash, ideally 5-6 inches in length
2 small bunches of garlic scapes
2 tablespoons olive oil
high quality sea salt & pepper (omit pepper for AIP)
Slice off the tops and bottoms of the zucchini and slice them in half lengthwise, then cut them in half lengthwise again. They should look like pickle spears. Place them all in a large bowl and coat with olive oil, salt and pepper.  Put the zucchini & squash in a grill basket or grill grid. (If you don't have either, put them in foil and lightly seal. They won't get quite the char on them, but they will still be tasty.)
Wash and dry the scapes. Break off the harder ends (as you would like asparagus) and leave whole. Using your hands, smear about 1 tablespoon of olive oil onto the scapes and sprinkle with salt.
Prepare your grill to medium to heat. Toss scapes directly on the grill and remove them when they're soft on the inside, crispy on the outside, a lighter shade of green and golden brown in parts. At the same time, place the basket on the grill and cook vegetables on all sides until tender (but not mushy) and slightly charred.  Remove from grill, taste and add salt & pepper as needed. Serve as is or with a squeeze of fresh lemon juice, crushed pine nuts or chopped olives.