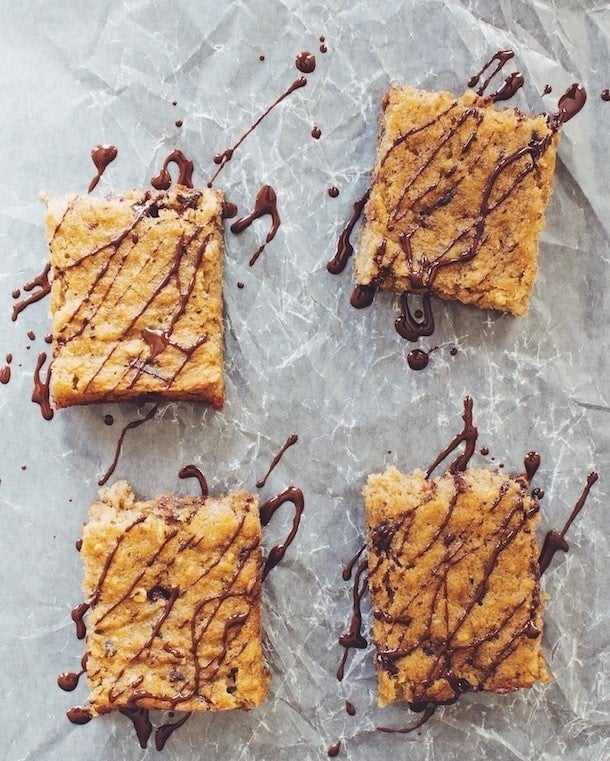 Treat yourself Tuesday is here – let there be chocolate! I posted these Coconut Banana Chocolate Chip Blondies a few weeks ago on Instagram and many of you asked for the recipe, but I hadn't quite perfected the recipe.
I'm still learning how to bake with coconut flour and the first version ended up a little more crumbly than I would have liked (because it absorbs way more liquid compared to grain flours). They tasted amazing, the whole pan was gone in two days, but I wanted to make sure they were Midwest "bar" material, meaning portable and potluck worthy.
A few more pans were made – tweaks to how many bananas, number of eggs, and coconut oil were happily tested. And finally these Coconut Flour Blondies came out just perfect.
They're quick and easy to make, using only one bowl and just a few ingredients. I found that adding just a little bit of oat flour was best for the texture. Super soft and chewy, it's hard to resist just one of these coconutty, chocolaty bars. No one would ever know they're healthy-ish!
I could have tried using an unrefined sweetener like maple syrup or honey, but let's be real – all blondies MUST have brown sugar.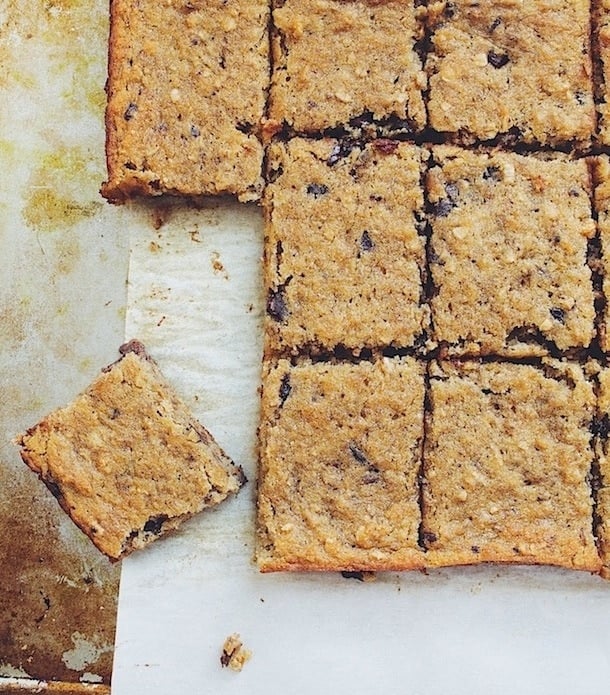 Naturally gluten-free and dairy-free (if you use dairy-free chocolate chips) they're a sweet treat that all can swoon over. Mixing the coconut oil and brown sugar creates such a fabulous aroma that will make you want to eat the batter by the spoonful. 
I love the flavor combination, there's just something so right about bananas and chocolate together.  
The result is truly delicious. And who doesn't need another way to use overripe bananas?
I'm sharing the recipe below and over on Valerie's beautiful and inspiring blog, Nuance and Bubbles. Valerie is originally from Toronto and now lives in Puerto Rico – I have to say the scenes of her everyday life make me a little jealous (which you'll get to see a little of when she guest posts here next week).
She and I met through Twitter, when she was getting ready to make my Hip Green Dip and let me know that she was waiting for the "avocado truck" to roll past her house. Hello….awesome. But more importantly, her and I connected over all things that nourish a strong woman. When I went to her blog and saw the inspiring space she had created I knew I had found something special. I think you'll find the same, and such wonderful creativity too, like funky travel, style and lifestyle scenes.
Coconut Flour Chocolate Chip Blondies (gluten-free, dairy free)
Makes an 8×8 inch pan
Adapted from this recipe
I know it'll be hard to resist taking a bite of these bars when they're just warm out of the oven, but they do benefit from cooling completely. You'll get a fudgey texture that holds together perfectly. Enjoy!
3 very ripe medium bananas, mashed (mash should weigh 210 grams)
1/2 cup lightly packed brown sugar (110 grams)
2 large eggs (130 grams)
1/3 cup melted coconut oil, cooled
1/4 cup oat flour (25 grams)
1/3 cup coconut flour (45 grams)
1/2 teaspoon pure vanilla extract
1 1/2 teaspoons baking powder
1/4 teaspoon salt
1/2 cup + 2 tablespoons dark chocolate chocolate chunks, chopped (80 grams, use dairy free if needed)
Preheat oven to 350 degrees F. Line an 8×8-inch baking pan with parchment paper.
Place the banana and brown sugar in the large bowl of a stand mixer. (Or you can use a hand blender.) Mix medium speed until the banana and sugar are creamy and mostly smooth. It doesn't have to be 100% smooth, a little banana texture is okay. Add the eggs and mix until smooth.
Add the coconut oil, coconut flour, oat flour, vanilla, baking powder and salt. Mix until smooth. Finally add 1/2 cup chocolate chunks and fold them in. Transfer the batter to the prepared pan and smooth out. Bake for 25 minutes, until just golden and set.
The blondies should still be soft but just cooked through. Remove from the oven and allow to cool. Melt remaining 2 tablespoons of chocolate in the microwave, then drizzle on top of the bars. To store, keep in refrigerator for up to 4 days.