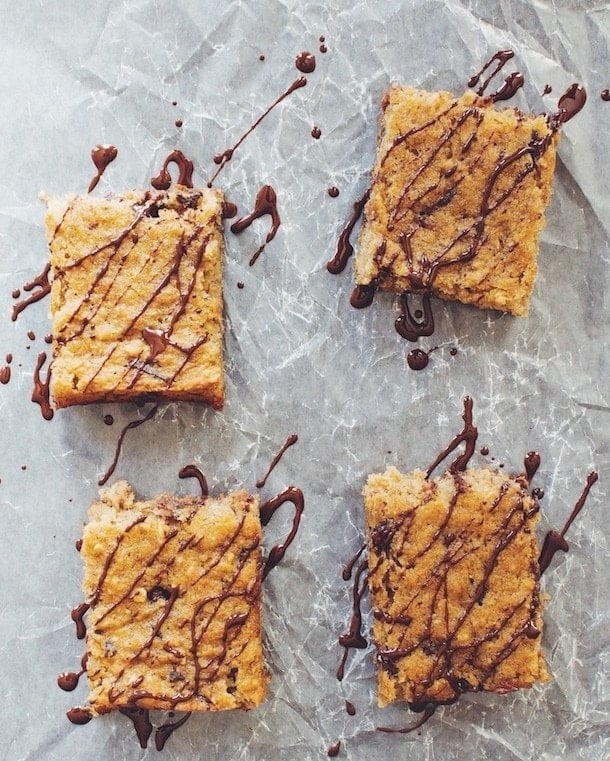 Treat yourself Tuesday is here – let there be chocolate! I posted these Coconut Banana Chocolate Chip Blondies a few weeks ago on Instagram and many of you asked for the recipe, but I hadn't quite perfected the recipe. I'm still learning how to bake with coconut flour and the first version ended up a little more crumbly than I would have liked (because it absorbs way more liquid compared to grain flours). They tasted amazing, the whole pan was gone in two days, but I wanted to make sure they were Midwest "bar" material, meaning portable and potluck worthy.
A few more pans were made – tweaks to how much many bananas, the number of eggs, and coconut oil were happily tested. And finally these beauties came out just perfect.
They're quick and easy to make, using only one bowl and just a few ingredients. I found that adding just a little bit of oat flour was best for the texture. Super soft and chewy, it's hard to resist just one of these coconutty, chocolaty bars. No one would ever know they're actually loaded with healthy vitamins and minerals.
I could have tried using an unrefined sweetener like maple syrup or honey, but let's be real – all blondies MUST have brown sugar.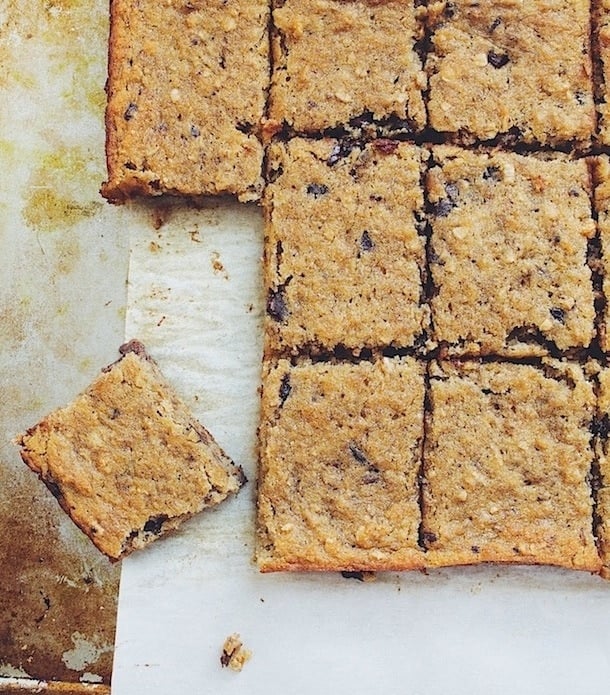 Naturally gluten-free and dairy-free (if you use dairy-free chocolate chips) they're a sweet treat that all can swoon over. Mixing the coconut oil and brown sugar creates such a fabulous aroma that will make you want to eat the batter by the spoonful. I love the flavor combination, there's just something so right about bananas and chocolate together.  
The result is truly delicious. And who doesn't need another way to use overripe bananas? Hop on over to Valerie's beautiful and inspiring blog, Nuance and Bubbles, for the recipe, where I'm happy to be guest posting today. Valerie is originally from Toronto and now lives in Puerto Rico – I have to say the scenes of her everyday life make me a little jealous (which you'll get to see a little of when she guest posts here next week).
She and I met through Twitter, when she was getting ready to make my Hip Green Dip and let me know that she was waiting for the "avocado truck" to roll past her house. Hello….awesome. But more importantly, her and I connected over all things that nourish a strong woman. When I went to her blog and saw the inspiring space she had created I knew I had found something special. I think you'll find the same, and such wonderful creativity too, like funky travel, style and lifestyle scenes.
So without further ado…. get the recipe for these delish blondies and have a lovely Tuesday!